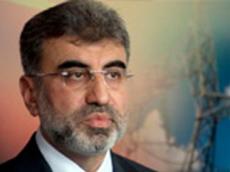 The Trans-Anatolian gas pipeline (TANAP), designed to transport Azerbaijani gas to Europe through Turkey, will be connected to the Nabucco West project, Turkish Energy and Natural Resources Minister Taner Yildiz said in an interview with the Haber newspaper published on Friday.
He said the option of transporting Azerbaijani gas to Austria through Bulgaria is also being considered.
The consortium of the Azerbaijani Shah Deniz gas field development selected Nabucco West as the single pipeline option for the potential export of Shah Deniz Stage 2 gas to Central Europe, the joint statement of BP and SOCAR said Thursday.
The Nabucco Consortium submitted a proposal to the Shah Deniz II Consortium for the construction of a Nabucco West pipeline which would bring Caspian gas from the Bulgarian-Turkish border to Baumgarten and beyond.
Nabucco-West envisages the construction of a 1300 km of pipeline (Bulgaria: 412 km, Romania 469 km, Hungary 384 km, Austria 47 km). The pipeline, which can be further extended, is designed to transport gas from Azerbaijan.
The final decision on a pipeline route is expected to be made in 2013. On Tuesday Azerbaijan and Turkey signed an intergovernmental agreement on TANAP.
Turkey and Azerbaijan signed a memorandum of understanding in December 2011 to establish a consortium that will build a gas pipeline to deliver gas from the Azerbaijani offshore field Shah Deniz to Europe via Turkey. At present, a 20 per cent share in TANAP belongs to Turkish BOTAS, 80 per cent and the State Oil Company of Azerbaijan (SOCAR).
The initial capacity of the pipeline is expected to reach 16 billion cubic meters a year. About six billion cubic meters will be delivered to Turkey and the rest to Europe.
/
Trend
/