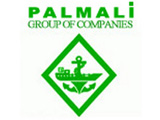 Palmali Group of Companies has acquired a new tanker Guneshli of Aframax class, the company said in its statement on Thursday.
"Despite the global economic crisis, purchase of new tanker Guneshli of Aframax class was completed on June 27, 2012 in Port Curacao," the report says.
According to the report, after leaving the port Curacao the tanker will leave for loading in one of the ports in the Caribbean Sea.
The length of the vessel is 241 meters, width - 42 meters, depth - 21.2 meters, landing - 14,923 meters, deadweight - 104,403 tons, gross net - 56573/32511.
/Trend/