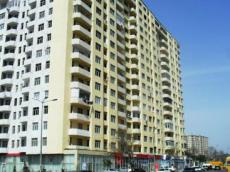 The rights for 44,700 real estate objects were received for state registration in Azerbaijan in January-April or by 6.8 percent more compared to the same period of last year, the State Property Committee said on Monday.
According to the information, about 13,267 (29.7 percent) were registered for the first time, 31,434 (70.3 percent) - repeatedly. The volume of re-registration increased by 19 percent compared to January-April 2011.
About 9,205 facilities registered in January-April 2012 fall to private houses and villas, 15,998 - apartments, 16,828 - land plots, 1,264 - non-residential buildings, 1,026 - non-residential areas, 281 - property complexes, 94 - perennial plants, 5 - high-rise residential buildings. The registration of private homes and villas increased by more than 10 percent, land plots - 17 percent, property complexes - at 2.6 percent per year.
About 62 percent of real estate facilities during the reporting period were registered in the regions of the country.
About 1,105 flats were privatized in Azerbaijan in Jan.-April. Thus, about 457,634 flats have been privatized since the beginning of the privatization process till May 1.
/
Trend
/