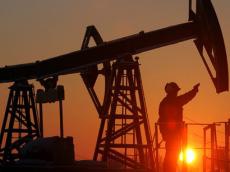 By Azernews
By Nigar Abbasova
Crude oil prices recorded another decrease on August 23, with Brent falling below $49 amid new signals of continuous excess in oil supply to the market, as well as Iraq's intention to increase export of raw materials in the short run.
Brent crude oil October futures on ICE Futures stock were trading at $48.64 per barrel, recording a decrease of 1 percent on August 23, Interfax reported. West Texas Intermediate (WTI) crude September futures on NYMEX stood at $46.78 per barrel, facing a decrease of 1.3 percent.
The daily basket price of OPEC basket of fourteen crudes stood at $46. 04 a barrel on August 22, recording an increase of $0.78 compared to the previous index of 46.82 on August 19.
The price of a barrel of Azeri Light crude oil decreased $1.02 to stand at $50.29 on the world markets.
The decrease observed in the market was triggered by a number of factors including plans of Iraq to increase oil production by 5 percent. Iraq's oil export reached the level of 3.71 million barrels per day in July, according to International Energy agency (IEA).
Moreover, investors are worried about the resumption of oil extraction in Nigeria, as Niger Delta Avengers (NDA) militant group announced a ceasefire and intent to negotiate with the Nigerian government following a months of attacks on oil fields and facilities, which resulted in the fall of oil production in the country to 20-year lows.
Goldman Sachs analysts say that a 20 percent increase of prices fixed in August was excessive and not reflecting a real balance of demand and supply on the market.
"While oil prices have rebounded sharply since August 1, we believe this move has not been driven by incrementally better oil fundamentals, but instead by headlines around a potential output freeze as well as a sharp weakening of the dollar (and exacerbated by a sharp reversal in net speculative positions)," Reuters reported citing Goldman Sachs.
The traders also focused on the forthcoming informal meeting of OPEC members in Algeria, which is scheduled for September 26-28. OPEC members and non-OPEC members are expected to discuss the market situation, including any action that may be required to stabilize prices during the meeting, which will be held on the sidelines of International Energy Forum.
Experts still doubtful about the outcome of the forthcoming meeting, saying that a likelihood of a deal "may not be high" due to disputes between OPEC members , as well as uncertainty over non-OPEC producing giant Russia's willingness to cooperate.
Nevertheless, analysts say that a proposed oil production freeze at current near-record levels is not expected to significantly influence the situation in an oversupplied market and bring supply and demand back into balance.
Meanwhile, Moody's Investors Service, a leading provider of credit ratings, research, and risk analysis said that an average price of oil is expected to range from $40 to 60 per barrel.  
Global oil production continued to grow in July and totaled 95.12 million barrels per day, which is 0.24 million barrels higher than the index of June, according to OPEC estimates. Moreover, oil production in OPEC countries increased by 46,400 barrels per day up to 33.11 million barrels a day in July.
Global demand growth is expected to decline from 1.4 million barrels per day in 2016 to 1.2 million billion barrels in 2017, according to IEA. The forecast for 2017 was cut by 0.1 million barrels per day from last month's report, while the 2016 outlook is unchanged from the last month's report of IEA.