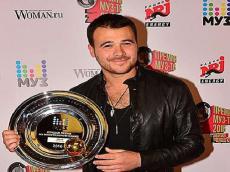 By Laman Ismayilova
Famous Russian music ch?nnel MUZ TV held its annual prestigious award ceremony in the field of popular music on June 10.
Popular Azerbaijani singer Emin Agalarov took an award for «Best song in a foreign language» for his mega hit BOOMERANG, an official website of the musician informs.
The single BOOMERANG was recorded together with legendary Nile Rodgers. The video was released last fall, since then the video has more than 5,000,000 views on YouTube.
The BOOMERANG super hit has already taken over the music charts in the UK and United States and air played on BBC Radio2, where it has been placed in the top 10 songs of the Billboard of the US Dance chart!
This is EMIN's second award from MUZ TV. Last year the artist was awarded for «Best album».
Born in Baku, Azerbaijan, Emin moved with his family to Russia at the age of four. Emin began to write songs, sing and learned guitar and piano. He continued to hone and perfect his music throughout high school and recorded a full Russian album when he was 17. In 2006, he released his English language album, STILL.
In 2012 Emin was asked to be guest performer at the Eurovision Song Contest, Europe's best known and largest singing competition which was being held in his birth-country, Azerbaijan.
Emin's media appearances include BBC Breakfast, Extra, ITV's Daybreak, Fox, Entertainment Tonight, Pro 7, The Today Show, E!, among others. He's been featured in The Sunday Times, The Sun, Bilt, Wall Street Journal, The Independent, GQ, Esquire, OK!, among others.