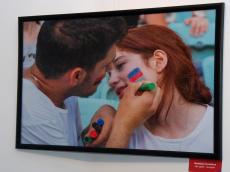 By Amina Nazarli - AzerNews 
The opening ceremony of the "Happy moments of Baku 2015" photo exhibition was held at the Kichik QalArt gallery in Baku on July 15.
The exhibition is devoted to the first-ever European Games held in Baku on June 12-28, hosting more than 6,000 athletes from 50 European countries who competed in 20 sporting events.

The ceremony was organized by the Arts Council Azerbaijan and the Coca-Cola Company, an official partner of the Games, with support from the Culture and Tourism Ministry.
The exhibition was attended by representatives of diplomatic missions to Azerbaijan, well-known artists and cultural figures, and the medalists of the European Games.
Dadash Mammadov, the head of the Arts Council Azerbaijan, and Gabil Ahmadov, a representative of the Coca-Cola Company in Azerbaijan, addressed the event, informing the audience about the photos, some of which were featured at a photo exhibition held on June 16 -30 and devoted to the European Games.
"Alongside professional photographers, the contest also features the works of amateurs [photographers]. Photographers reflected the happiest and most memorable moments of the European Games in their works," Ahmadov said.
Mammadov, in turn, noted said that the European Games, which hosted 16 Olympic and four non-Olympic sports, was a significant event for Azerbaijan.
"We decided to hold a photo contest, which would reflect the happiness and joyful emotions of the fans and athletes of this large-scale event," Mammadov said.
During the exhibition, the contest winners were announced.
First place went to Rustam Ismayilov for his "Feeling of pride" piece. Vugar Ibadov with his work "Task completed" won second place. Bekir Dallakov with "Bravo, girls" and Mirsadig Huseynov with "Baku 2015" took third place.
The exhibition consisting of 50 photographs will last until July 22.
The address of the venue is Icherisheher (Old City) Kichik Gala 58.