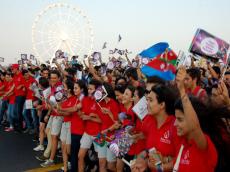 A special event dedicated to Azerbaijan's national team athletes and volunteers of the first European Games was held in Baku on Sunday.
The event began with a parade of "Baku 2015" with the participation of Azerbaijani sportsmen and volunteers European Games.
The event was held at the initiative of the Ministry of Youth and Sport of the Republic of Azerbaijan and the Baku 2015 European Games Operations Committee.
The parade continued with the concert program.
The First European Games kicked off in Baku June 12 and wrapped up June 28. The Games hosted 20 sports – 16 Olympic and four non-Olympic sports. Over 6,000 athletes represented the European countries at Baku 2015.