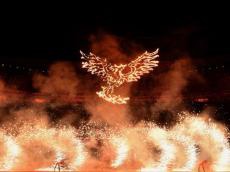 By Laman Sadigova
An autograph session sponsored by Park Bulvar and Day.Az Media Company featuring the champions of the European Games will take place on July 11 at 17:00.
All who wish to participate can come to Park Bulvar to experience a "Meeting with Olympic stars," where citizens and guests will get an opportunity ask them anything they would like to know and receive an autographed photo with the champions.
The athletes who will join the event are karate champions Firdovsi Farzaliyev (gold), Rafael Agayev (gold), Ayhan Mamayev (gold), Irina Zaretskaya (gold), world champion in karate and head coach of the National Team Rahman Hatamov, gold medal winner in Greco-Roman wrestling Elvin Mursaliyev, bronze medalists Rafig Huseynov and Elman Mukhtarov, taekwondo bronze medalist Patimat Abakarova, gold medalist in the men's 90 kg judo competition Paralympic Ilham Zakiev, along with boxing gold medalists Elvin Mamishzade, Teymsur Mammadov, and Parviz Bagirov.
The European Games kicked off in Baku on June 12 and lasted for 17 days. The innovative competitions gathered over 6,000 athletes to show their strength and skills in 20 competitions, 16 of which were Olympic sports and 12 of which were qualifiers for the 2016 Summer Olympics in Rio.
Russia, represented by a team of 351 athletes, won the overall ranking with unbeatable 164 medals, 79 of which were gold medals.
The country was followed by Azerbaijan with 56 medals and the UK with 47 medals.