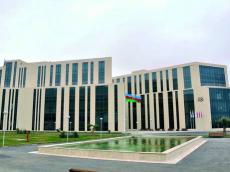 By Nigar Orujova
The Baku branch of Moscow State University is preparing to host a significant event in Azerbaijan's scientific and educational history, the 47th International Chemistry Olympiad this July.
The Chemistry Olympiad for schoolchildren will take place in Baku on July 20-29.
A competition of 300 of the world's best young chemists, representing almost 80 countries and all five continents, will take place at the Baku campus of Moscow State Lomonosov University.
The young chemists will be accompanied by almost 250 supervisors, as well as scientific observers and guests.
The main aim of the ICHO is to identify the best young chemists on the planet. It includes two rounds: practical and theoretical, each of which lasts 5 hours.
Moreover, young participants will be able to get acquainted with the ancient history and modern development of Azerbaijan as part of an interesting cultural program and enjoy dynamic opening and closing ceremonies.
Moscow State Lomonosov University's Baku campus was established in 2008 and is one of the main centers of chemistry and manufacturing education in Azerbaijan.
The modern educational institution was unanimously selected at the 44th International Chemical Olympiad in Washington, D.C, United States in 2012.
Preparations for holding the prestigious event in Baku began in 2013.
Young Azerbaijani chemists showed great results at the last International Chemistry Olympiad in Hanoi, Vietnam.
The event brought together 291 pupils from 77 counties. Azerbaijan was represented by 4 students, and two of them received special prizes.
Azerbaijan is the second country after Russia in the post-soviet area to win a bid to host the International Chemistry Olympiad.
The organizing committee, chaired by the Rector of the Baku branch of Moscow State Lomonosov University, Doctor of Philology, Professor Nargiz Pashayeva has already completed many tasks in preparation for the Olympiad, including publishing the first edition of the Catalyzer, the Olympiad newspaper, the website of the Olympiad, tentative program of requirements for Olympiad participants.
The website of the event was also created to update the participants on the stage of preparations.
After Azerbaijan, the International Chemistry Olympiad will be held in Russia in 2016 and then in Thailand in 2017.
The concept of the International Chemistry Olympiad was developed in the former Czechoslovakia in 1968. It was designed to increase international contacts and the exchange of information between nations. The first International Chemistry Olympiad took place in Prague on June 18-21, 1968.