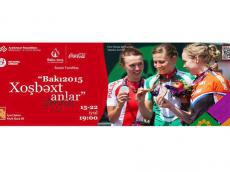 By Laman Sadigova
Baku art gallery "Kicik QalArt" will host the opening of the photo exhibition "Baku 2015 Happy moments" on July 15 at 19.00.
The exhibition will be held at the initiative of the "Azerbaijani Arts Council" and the official partner of the first European Games - Coca-Cola Company with the support of the Culture and Tourism Ministry.
The exhibition will feature works taking part in the photo contest dedicated to the first European games. Contest was held from June 16 to 30.
The names of the winners will be announced during the exhibition.
More than 6,000 athletes from across Europe came to Baku represented their nations over 17 days of competition. Baku was awarded the games by the European Olympic Committees (EOC) in December 2012.
Overall, the Azerbaijani athletes gained 56 medals.
The next European Games will be held in four years. The flame of the European Games 2019 will be lit in the ancient Ateshgah Temple in Baku.