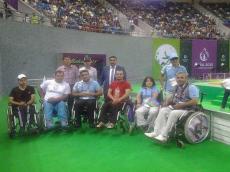 By Nigar Orujova
The inaugural European Games in Baku attracted many young people ready to spend their time and energy as volunteers to help in the organization of the high-level event. Eighteen physically challenged people were among them.
The Labor and Social Protection Ministry reported that the Operating Committee of the European Games has awarded these young people with certificates for successful participation.
The young volunteers, who had completed courses at the Center for Vocational Rehabilitation under the Ministry, took part in the opening and closing ceremonies of the Baku 2015 and watched the competition as spectators.
The Center has provided the necessary conditions for training the 29 Paralympic athletes from the beginning of 2015.
The Baku 2015 European Games, which gathered over 6,000 athletes for 17 days of elite sports competitions, included Paralympic judo.
They were inspired by the important historical achievements of the Azerbaijani national team, in particular the success of the Paralympic judo fighters, and the victory of double Paralympic Champion, two-time World Champion, and five-time European Champion Ilham Zakiyev.
All three of Azerbaijani Paralympic athletes participating in the Baku 2015 were honored with awards. Ilham Zakiyev, the final torchbearer of the Baku 2015, won gold in the weight category over 90 kg, while Zakir Mislimov won bronze. Sabina Abdullayeva earned a silver medal in the women's 57 kg category.
Overall, about 20,000 volunteers mostly from Azerbaijan participated in coordinating the logistics of the Games.
All of the necessary conditions have been met for people with disabilities to freely visit stadiums and easily view of the competitions during the Baku 2015.