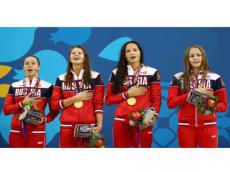 By Nigar Orujova
Russian President Vladimir Putin praised the organization of the first European Games in Baku, said Igor Levitin, Aide to the Russian President.
"The European Games were held at the level of Olympic Games. The opening and closing ceremonies were excellently organized. President Vladimir Putin is very much pleased with how the Games were delivered," Vice-President of the country's Olympic Committee Levitin said at a press conference at TASS headquarters.
He said that prior to the beginning of the Games he visited Baku to view the preparations. "The Russian side was always in contact with the Organizing Committee, which approached its work with high professionalism."
President of the Russian Olympic Committee Alexander Zhukov also said the inaugural European Games in Baku fully complied with Olympic standards.
The inaugural European Games in Baku has attracted the head of states and high officials from all over the world. The magnificent opening ceremony of the Games was attended by Russian President Vladimir Putin, Turkish President Recep Tayyip Erdogan, Belorussian President Alexander Lukashenko, Serbian President Tomislav Nikolic, Turkmenistan's President Gurbanguly Berdimuhamedov, Tajikistan's President Emomali Rahmon, and Filip Vujanovic, the President of Montenegro.
The innovative competitions gathered over 6,000 athletes to show their strength and skills in 20 sports, 16 of which was Olympic and 12 were licensed for the Summer Olympics in Rio.
Russia, presented by the team of 351 athletes, won the overall ranking with unbeaten 164 medals, 79 of which was gold medals.
The country was followed by Azerbaijan with 56 medals and the Great Britain with 47 medals.