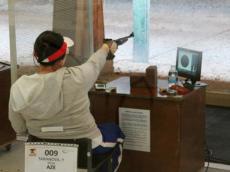 By Nigar Orujova
Baku has hosted a ceremony honoring the Paralympics athletes who became winners of the first European Games.
The Baku 2015 European Games, which gathered over 6,000 athletes for 17 days of elite sports competitions, included Paralympic judo competitions.
All three of Azerbaijani Paralympic athletes participating in the Baku 2015 were honored with awards. Ilham Zakiyev, the final torchbearer of the Baku 2015, won gold in the weight category over 90 kg, while Zakir Mislimov won bronze.
Sabina Abdullayeva earned a silver medal in the women's 57 kg category.
At the ceremony, National Paralympic Committee President Ilgar Rahimov congratulated athletes for their great victories at European Games.
"The whole world saw the special respect in our country to the Paralympics when two-time Paralympic Champion, two-time World Champion, and five-time European Champion Ilham Zakiyev brought the torch of the first European Games into the Baku Olympic Stadium," he said.
The Paralympics movement in Azerbaijan is developing rapidly, and the athletes are making progress in the international arena, he stressed.
He especially noted that during the European Games, the Vice President of the International Paralympic Committee, Andrew Parsons presented Azerbaijani President Ilham Aliyev the Honor award, which is the highest Paralympic award.
The Paralympic Honor is bestowed upon those heads of state who have contributed significantly to the development of Paralympics movement and sport. Only 12 heads of state have received the award so far.
He stressed that after Baku 2015, his committee received many proposals for holding various international competitions in Azerbaijan, including the World and European Championships.
Speakers noted the high level of organization for the events, stressing that all of the necessary conditions have been met for people with disabilities to freely visit stadiums and easily view of the competitions.
During the ceremony, athletes, coaches, and activists of the Paralympics movement were presented with diplomas. Ilham Zakiyev was presented with special "Paralympics medal" from the Paralympics Committee.
Paralympics sports are developing in Azerbaijan, the first country in the world to create a Children Paralympics Committee. The movement aims to encourage more disabled children in the country to engage in sports and physical education.
Azerbaijani Paralympic athletes participated in the 10th Atlanta Summer Paralympic Games in 1996 for the first time in the history of Paralympic sports in Azerbaijan, with two athletes representing two sports.
At the Paralympic Games in Beijing in 2008, Azerbaijan won 10 medals, ranking 37th. Azerbaijani athletes achieved great success at the Summer 2012 Paralympic Games in London, gaining 12 medals and becoming 27th out of a total of 166 countries.
Azerbaijani Paralympic athletes are currently participating in the competitions in 10 sports.