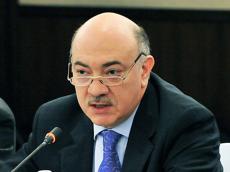 Azerbaijan has held the first European Games with dignity, Fuad Alasgarov, the Head of the Azerbaijani Presidential Administration's Department for Work with Law Enforcement Agencies, said.
Alasgarov made this statement at a solemn ceremony at the Police Academy of the Interior Ministry, dedicated to the professional holiday of police officers.
The First European Games kicked off in Baku June 12 and wrapped up June 28. The Games hosted 20 sports – 16 Olympic and four non-Olympic sports. Over 6,000 athletes represented the European countries at Baku 2015.
"The country attracted the world's attention during these 17 days," he said. "Azerbaijan has honorably passed this test, by achieving great success."
He said that the first European Games have created an opportunity to show dynamically developing Azerbaijan to the world.
"The European Games have popularized the culture, the traditions, the hospitality, the beauty of the country and its capital Baku throughout the world," he said.
Alasgarov said that in particular, uniqueness and grandeur of the opening and closing ceremonies of the first European Games have demonstrated the power of the state, its rich historical traditions.
"The whole world saw an example of organization of the event at a high level," he said. "The role of officers of the ministry of internal affairs and the servicemen is irreplaceable in ensuring high-level security of events, athletes and guests. They carried out at the highest level such important tasks as the protection of public order and facilities, where the competitions were held, ensuring the safety of athletes, fans and visitors."
Alasgarov went on to add that the work demonstrated by Azerbaijani police can serve an example for the countries of the West in terms of culture and civility, respect for human rights.
Furthermore, Alasgarov said that an important socio-political event, the next parliamentary election in Azerbaijan lies ahead.
"We are confident that during this period, the internal affairs bodies will worthily fulfill their duties," he said. "We are also confident that the staff of the internal affairs bodies will continue to fulfill their duties in combating crime, ensuring public security with high responsibility."
The parliamentary election in Azerbaijan is scheduled for November 2015.