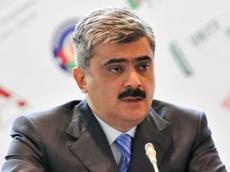 The First European Games became the important and significant event for Europe and in particular, for Azerbaijan, Samir Sharifov, Azerbaijani finance minister said July 2.
He made the remarks during the 6th International Insurance Forum that is being held in Baku July 2.
"This forum is being held at special time. The first-ever European Games have just wrapped up," he said.
Azerbaijan succeeded to organize such a major sports event in a very short time and proudly received 6,000 athletes from 50 countries, Sharifov added.
The finance minister stressed that both local and major international insurance companies supported the First European Games.
The First European Games kicked off in Baku June 12 and wrapped up June 28. The Games hosted 20 sports – 16 Olympic and four non-Olympic sports. Over 6,000 athletes represented the European countries at Baku 2015.