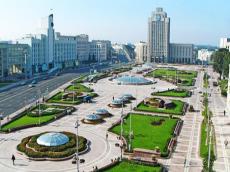 The second European Games can take place in Belarus, Maksim Rizhenkov, the first vice-president of the National Olympic Committee of Belarus, assistant to the president for physical culture, sport and tourism, said.
"The European Committees have already voiced this proposal," Rizhenkov said in the "Main Broadcast" episode of "Belarus 1" TV channel. "So, the event can be held on the territory of the republic if the country offers conditions meeting the requirements."
"Belarus has rowing canals, water sports complexes, arenas," he said. "This reduces the initial costs."
Rizhenkov also said that Belarus, as well as other potential candidate countries, has not refused from holding the European Games.
The European Games kicked off in Baku June 12 and ended June 28. There was a total of 20 sports at Baku 2015: 16 Olympic sports and four non-Olympic sports.
More than 6,000 athletes from across Europe represented their nations over 17 days of competition.