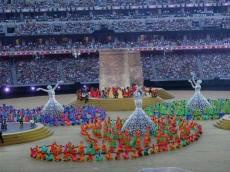 By Aynur Karimova
Azerbaijan has set new standards for hosting large-scale sporting events by organizing the Baku 2015 First European Games.
The Land of Fire once again dispelled all doubts and disproved biased statements that the young country would fail to host the First European Games at the highest level, and thus entered its name into the history of European Sports.
The audience and the athletes were all impressed by the fascinating and mesmerizing opening and closing ceremonies and the impressive coordination of competitions.
The European Games, held in the Azerbaijani capital of Baku on June 12-28, gathered over 6,000 athletes from around Europe to participate in 20 sports, 16 of which are Olympic and 12 of which are qualifiers for the 2016 Olympic Games in Rio.
Many anti-Azerbaijani circles doubted that the Land of Fire, Azerbaijan, having only been an independent country for 24 years, would even be able to host the first ever European Games, let alone do it so remarkably.
Baku 2015, the successful result of serious efforts and intense planning, won victory over negative opinions. Right after the opening ceremony, all doubts were dispelled and the ill-wishers failed to disturb its progress.
The organization of the Games has surpassed all expectations. Hosting the European Games promotes the country and enhances its image in the international arena. The country has proven its ability to cope with the assumed tasks, despite all attempts to discredit Azerbaijan as part of a smear and biased campaign conducted against it.
The athletes, who had nothing but positive comments regarding the excellent conditions of the accommodation and training facilities, along with fans and viewers around the world, will remember Azerbaijan not only as a beautiful, modern, hospitable country, but as a country that has presented a memorable sporting festivity to the world.
Today, one thing is very obvious: Azerbaijan has proved its ability to host grand sporting events of international importance with its impressive new sporting infrastructure and logistical experience.
Azerbaijan has sent a message of peace and brotherhood to all countries via the European Games. The successful hosting of the first European Games in Azerbaijan showed the whole world how much importance the country attaches to sports, a factors in strengthening the ideals of friendship, good-neighborliness, and cooperation throughout the world.
The Baku 2015 European Games is the beginning of a new era of sports, a step forward on the road to even more sporting events. Azerbaijan has opened a new chapter in the history of sports of this continent.