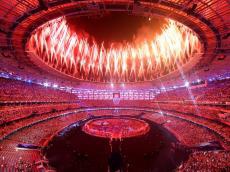 By Ilhama Isabalayeva 
The information about the first European Games in Baku will be included in textbooks of Azerbaijan and European countries, Musa Gasimli, Azerbaijani MP, professor, told Trend.
"The future generations of Azerbaijani people will be proud of these Games," he said. "While assessing the European Games, it is necessary to pay attention at least to four issues. The first issue is connected with the voting on holding the games and the preparation for them."
"First of all, the voting on holding the European Games in Azerbaijan testified to the trust and confidence in our country and President Aliyev," he said. "An underdeveloped country, not ready for holding such games, would never be charged with organizing the first European Games. Earlier, sports facilities were built in Azerbaijan. Azerbaijani athletes achieved success in international competitions."
Gasimli also said that such games have not been held on the continent so far.
"The preparation was conducted and the infrastructure was created for a short time - two years and a half," he said. "It is difficult to find the second country in the world that could do this in such a short period of time. Azerbaijan has created a new standard. People will talk about the Azerbaijani standard, rather than the world standard."
"The second issue is connected with the opening ceremony of the first European Games," he said. "The ceremony was magnificent. Each fragment, even a small one, had a deep meaning. The ancient history and culture of the country were widely promoted at the ceremony. One can write a major work about the opening ceremony."
"At the ceremony, Chairperson of the Organizing Committee of the First European Games Mehriban Aliyeva said that no matter how far away the torch of the European Games burned in the coming years, there would be a bright fire of the spirit of Azerbaijan and Baku 2015," said the MP. "Participation of athletes from 50 countries in the European Games was an indicator of interest and respect to Azerbaijan and these Games."
Gasimli also said that the third issue is related to the holding of the Games. "Even if the Azerbaijani athletes didn't win, the opening ceremony was the greatest success of Azerbaijan," he said. "Having organized the opening ceremony at a high level, the country received its first gold medal. But Azerbaijani athletes brought us even more joy by their victories."
"The fact that the Games were observed in almost all countries also causes pride," he said. "Countries of the world have seen the most cultural audience. Guests that have arrived in the country, got acquainted with the ancient and rich history, culture, tried the national cuisine."
He went on to add that the fourth issue is related to the fact that after the European Games, interest for sport will increase in Azerbaijan. "A lot of work has been done for a healthy upbringing of the youth, young people and children will abandon some bad habits," the MP said.