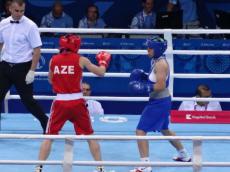 Azerbaijani female boxer Yana Alekseeva eyes to win a gold medal at the Baku 205 European Games, and said she earlier defeated her rival from Russia at the Baku 2015 European Games thanks to the well thought-out tactics.
Earlier on June 24, Alekseeva, competing in the women's 57-60 kg boxing event at the Games, won in the ¼ finals defeating Russia's Zinaida Dobrynina.
"The Russian athlete is a decorated world and European champion," she told reporters.
Alekseeva said the support of the fans also helped her to win.
"Now I need to think about the semi-finals," she further said. "I will try to win a gold medal."
Alekseeva will today, on June 26, face the Irish boxer Katie Taylor in the semi-finals, who is a five-time world champion, six-time European champion, five-time European Union champion and Olympic champion.
Alekseeva further said that her sister, Anna Alimardanova, is also a boxer.
Alimardanova earlier won a bronze medal in the women's bantam (51-54 kg) boxing at the Games for Azerbaijan.
The European Games kicked off June 12 and will last till June 28. There is a total of 20 sports at Baku 2015: 16 Olympic sports and four non-Olympic sports.
More than 6,000 athletes from across Europe came to Baku to represent their nations over 17 days of competition. Baku was awarded the games by the European Olympic Committees (EOC) in December 2012.