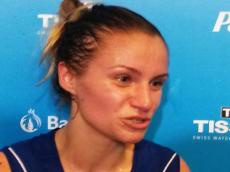 By Nigar Orujova
Azerbaijan wins another medal at the inaugural European Games as boxer Anna Alimardanova won bronze in the 51-54 kg category on June 25.
In the semifinals, Azerbaijan's athlete loses on points to Russian athlete Yelena Savelyeva.
Azerbaijan's national team now enjoys 41 medals: 14 gold, 11 silver and 16 bronze, still staying second in the overall ranking.
Leaving behind 13 days of the competitions, Russia now has 109 medals. Germany is the third with 41 medals, 13 of which are gold.
On June 24, Azerbaijani athlete Tayfur Aliyev competing in the men's 56 kg boxing semi-finals won a bronze medal.
Moreover, Yana Alekseeva (57-60 kg) and Haybula Musalov (75 kg) entered the semifinals on June 24. Collazo Sotomayor (64 kg), Albert Salimov (60 kg), Parviz Bagirov (56 kg) and Abdulkadir Abdullayev (91 kg) reached the semifinals on June 23.
Earlier, four more Azerbaijani boxers Elvin Mamishzade (52 kg), Tayfur Aliyev (56 kg), Teymur Mammadov (81 kg) and Magomedrasul Majidov (+91 kg) managed to get into the semifinals.
Super heavyweight Majidov had to pull out of the Baku 2015 boxing tournament because of an injury. However, he will prepare for the 2016 Olympics in Rio.
Azerbaijani boxer, medal winner in world and European championships, Teymur Mammadov, competing in men's light heavy (81 kg), advanced to the finals on June 24.