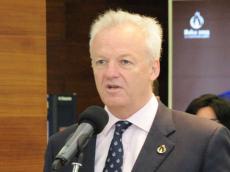 By Nigar Orujova
No one should call into doubt the degree of quality in the sporting events at first European Games in Baku, said Simon Clegg, Chief Operating Officer of the European Games Baku 2015.
Clegg was commenting on critical and biased articles published in the European media at a press conference in Baku on June 24.
"Five days remained prior to the completion of the competition. Everyone is placing efforts to ensure these competitions be held at the world level. We should not be distracted by issues not related to sport, as sport is our main business," said Clegg.
The Baku 2015 Games continue with badminton, fencing, beach soccer, swimming, boxing, volleyball, and 3?3 basketball on June 24. The athletes will compete for 10 medal sets: eight sets in swimming and two in fencing.
"Today, medals will be awarded by the results of the competition in swimming and fencing. It is expected, that 22,000 spectators will be watching the competition on June 24. The next day, June 25, 30,000 spectators are expected as the competition in judo starts," said Clegg.
Overall attendance at the First European Games competitions in Baku continues to be very high, Clegg noted.
"Yesterday we had 17, 076 spectators attend 12 sessions at 6 different venues," he said.
He noted that some first official matches at the European Games started on June 23, including 3X3 basketball.
"It was an incredibly exciting competition and very well attended," Clegg said.
Earlier, 5,000 tickets were sold for the competitions, Clegg said at a press conference in Baku. More than 12,000 tickets for the competition were sold on June 22.
Baku residents are now scrambling to find tickets for the competitions and the closing ceremony. Earlier, it was reported that the tickets for the final night were sold out following the success of the opening ceremony.
For this reason, the Organizing Committee put additional tickets on sale.
The Chief Operating Officer said preparatory work for the closing ceremony has already begun at the Baku Olympic Stadium.