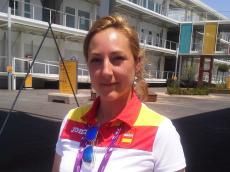 It will be difficult for the country that will host the next European Games to organize the event as well as Baku did, Carmen Juncal Munoz, press attaché for Spain's National Olympic Committee (NOC) told Trend June 24.
Talking about the conditions created at Baku 2015, the press attaché said that all destinations are very big and really close to each other.
"The conditions in the Athletes Village are very good," she said. "I have never seen a village like that."
Carmen Juncal Munoz added that Baku is brilliant. "I think Baku is an attractive tourist destination. It is a lovely place to visit."
She added that people are very friendly here.
The press attaché said she would like to visit Baku for any competition in the future, adding that if Baku wants to host the Olympic Games, it will make it happen.
The European Games kicked off in Baku June 12 and will last till June 28. There are a total of 20 sports at Baku 2015: 16 Olympic sports and four non-Olympic sports.
More than 6,000 athletes from across Europe came to Baku to represent their nations over 17 days of competition. Baku was awarded the games by the European Olympic Committees (EOC) in December 2012.