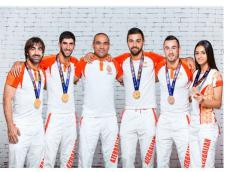 By Amina Nazarli
Azerbaijani karate fighters achieved good results at the European Games in Baku, grabbing six medals at the first-of-its-kind tournament.
12 athletes from Azerbaijan - seven men and five women - competed at the Games with 54 of Europe's best athletes.
Firdovski Farzaliyev (60kg), Rafael Agayev (75kg), Aykhan Mamayev (84kg) and Irina Zaretska (68 kg) took gold medals in the competition. Niyazi Aliyev (67 kg) and Ilaha Gasimova (55 kg) claimed bronze medals.
Karate is one of the most popular games in the South Caucasus country, which is famous for its highly-qualified school.
The National Karate Federation was established in 1994 to proliferate the sport in the country, which later entered the World Karate Federation in 1997.
"Azerbaijan is a new member of the WKF, however, during this period Azerbaijani athletes have achieved very impressive progress, especially in the Europe and World junior and youth championship," said Antonio Espinosa, the president of the WKF. "Achieving success in the WKF competitions is very difficult. But, this does not stop your guys to shine on the international tatami."
Bests of the bests
Azerbaijani national karate is considered one of the strongest in Europe and the world. National karate fighters participated in international tournaments, European, and World Championships. The national team has multiple World and European champions on board.
Rafael Agayev, the four-time World and eight-time European champion is well known throughout the world. Engaging in the sport at the age of seven, he became a winner in many prestigious competitions. Aghayev never had a dilemma in choosing sports as a career, since his father, a professional soccer player, was his inspiration.
Firdovsi Farzaliyev was inspired to start karate at the age of six, after watching the art demonstrated in movies. He won first in the kumite at the International Championship 2014 in Qatar.
Aykhan Mamayev was the winner of the 2013 Islamic Solidarity Games in Palembang and 2011 World Championships in Malaysia. Growing up, his parents sent he and his brother to a karate club, but they were not able to afford the fees for both of their children. Luckily, the coach spotted some potential in young Aykhan and offered to train him.
Traditionally, karate has been a male-dominated activity, but all that could be changing as young Azerbaijani women are going to the mat in increasing numbers.
Ilaha Gasimova, a karate fighter, met her prospective karate coach by chance and he saw great potential in her. Ilaha says that leading Azerbaijani karate fighter Rafael Agayev's achievements always motivate and encourage her to train more diligently and try to match his achievements in the women's competition.
Niyazi Aliyev, the winner of the 2010 World Combat Games in Beijing had meticulously watched fight scenes in movies since his childhood. The experience gave him a great love and deep respect for karate. Inspired by his young son, he has overcome several injuries to successfully compete in several bouts.
Azerbaijan raised the curtain on the first-ever European Games on June 12. Now its capital, Baku, is welcoming some 6,000 athletes from 50 countries to this inaugural sporting event.
Baku was awarded by the European Olympic Committee (EOC) in 2012. The Games will take place every four years thereafter.
The Baku 2015 Games feature a total of 20 sports, some of which are new disciplines. 16 are Olympic events and the other four are making their debuts in this format.