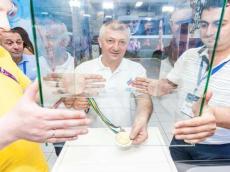 By Amina Nazarli
Legendary judo fighter and Azerbaijan's first Olympic champion, Nazim Huseynov, paid a visit to the Baku 2015 House of Fans, the Russian Information and Cultural Center told Trend.
Huseynov became the first Azerbaijani judoka to win an Olympic gold in Barcelona in 1992. He was coincidentally awarded the medal on his birthday, which made for a truly memorable gift.
The Japanese team referred to him as the "tiger of the Azerbaijani judo," and offered him to be a coach of the Japanese athletes after his incredible victory.
He retired from sports in 2000 to work as a judo coach. The talented judoka was ultimately appointed the coach of the Italian national judo team in 2007.
Upon his recent visit to the Azerbaijan House of Fans, the legendary athlete donated his Barcelona 1992 Olympic medal as well as memorial sign of the world best judoka to the House of Fans.
These two items of memorabilia are currently on display in the exhibition hall of the House of Fans, which is located at the Russian Information and Cultural Center in Baku.
"Azerbaijan and Russia have much in common. We have a common fight school, common sports history," said the ex-judo fighter. "At the Olympics in Barcelona we played as a unified team CIS. Famous wrestler Alexander Karelin carried out Olympic banner of our joint team, while I was entrusted to take the banner of Azerbaijan."
Huseynov also touched upon the 1st European Games that is currently underway in Baku. "I wish peace, health and success to Russian, Azerbaijani, and all the participants of the European Games," he said.
The House of Fans is a unique interactive exposition which is dedicated to the European Games. Athletes here have an opportunity to learn about athletes participating in the Games and discover the thrilling ambiance of high competition.
Anyone interested in seeing the display has the opportunity to visit the exhibition during the European Games from 10:00 am to 9:00pm. The address of the venue is Khojali prospect, 20.
The European Games commenced in Baku on June 12 and will last until June 28.
More than 6,000 athletes from across Europe have come to Baku to represent their nations in over 17 days of competition.
Twenty sports are on the agenda—16 Olympic sports and four, including 3x3 basketball, karate, beach soccer and sambo, that make their debut in this formant.
Baku was awarded the Games by the European Olympic Committees (EOC) in December 2012.