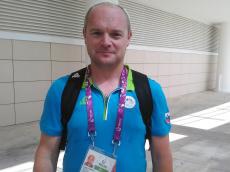 Everything is working perfectly at the European Games in Baku, Tomaz Torkar, Slovenian team official told Trend June 24.
"I mean transportation, swimming pool, the facilities, everything is fine," he said.
"The conditions are very good so I am looking forward for some more competitions here," said Torkar.
"I think Azerbaijan can host the Olympics," he said, adding that the swimming pool and the Athletes' Village are prospective facilities.
Tozkar went on to add that Baku is attractive for tourists. "I think people can come here and have some fun," he said.
Azerbaijan's tourism potential is increasing as does the flow of tourists into the country. As Azerbaijan's Minister of Culture and Tourism Abulfaz Garayev said at the Caspian Energy Forum – 2015, the country aims to increase the flow of tourists by 30-40 percent within several years. Garayev said Azerbaijan plans to be receiving some 5 million of tourists annually by 2020.
The European Games kicked off in Baku June 12 and will last till June 28. There are a total of 20 sports at Baku 2015: 16 Olympic sports and four non-Olympic sports.
More than 6,000 athletes from across Europe came to Baku to represent their nations over 17 days of competition. Baku was awarded the games by the European Olympic Committees (EOC) in December 2012.