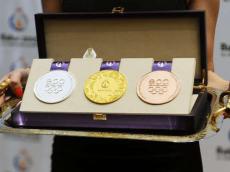 By Nigar Orujova
The 13th Day of the Baku 2015 European Games has arrived, and the host country Azerbaijan is continuing its fight for the place in top.
The 17-days long competition that started on June 12 now reaches its 13th day, and Azerbaijan is still the second in the overall ranking with 39 medals: 14 gold, 11 silver and 14 more bronze.
The country is following the Russian national team which medal rank now close to 100! At present, Russia enjoys 94 medals, 47 of which are gold.
Azerbaijan is closely followed by Germany with 34 medals, 12 gold.
June 23 was quite remarkable for Azerbaijan at the first European Games, as the national volleyball team gained a victory over the Dutch team and advanced to the semifinals.
Moreover, four boxers reached semifinals which mean the country may expect the medals.
Azerbaijani female boxer Anna Alimardanova advanced to the semifinals of the women's bantam 51-54 kg. Boxer Collazo Sotomayor, 64 kg, gained victory over Romanian boxer Daniel Niculescu and reached the semifinals in boxing.
"At the First European Games I have to win a gold medal," Sotomayor said commenting on his victory. "Azerbaijani fans, as always, helped to tune up to the fight. I have a purpose, motivation. I have to win a gold medal at this competition."
Azerbaijani boxers Parviz Bagirov, acting in the weight category of 69 kg, and Abdulkadir Abdullayev, acting in the weight category of 91 kg also reached the semifinals.
On June 24, badminton, fencing, beach soccer, swimming, boxing, volleyball and 3?3 basketball events will be held.
The athletes will compete for 10 medal sets: eight sets in swimming and two in fencing.
Azerbaijani athletes will participate in all events to be held June 24.