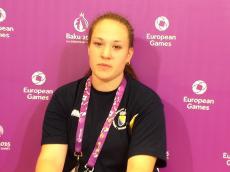 The first European Games should not be criticized, female athlete (women's hammer throw) from Bosnia and Herzegovina, Stefani Vukajlovic told Trend June 23.
Vukajlovic, who is taking part in the games, said that until now, nearly all continents had their own sporting competitions, except Europe.
"It is one more competition for the athletes from Europe," she said.
Vukajlovic said that the first European Games were very interesting.
She said that the Games were a new experience for her and she liked it, adding that she hopes to come to Baku one more time.
Vukajlovic went on to add that the organization of the European Games was at the highest level and everything was prepared well.
"Training fields and competition fields were very well prepared and organized," she said.
"We had an organized trip around the city," she said, adding that she was surprised how beautiful Baku is.
The European Games kicked off in Baku June 12 and will last till June 28. There are a total of 20 sports at Baku 2015: 16 Olympic sports and four non-Olympic sports.
More than 6,000 athletes from across Europe came to Baku to represent their nations over 17 days of competition. Baku was awarded the games by the European Olympic Committees (EOC) in December 2012.