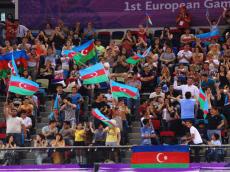 By Nigar Orujova
The inaugural European Games continues to attract more and more sport fans to the competitions underway in Baku.
Additional 12,200 tickets were sold for the competitions within the first European Games in Baku on June 22, Simon Clegg, the Baku 2015 chief operating officer said at a press-conference on June 23.
He noted that seven sport disciplines successfully completed the competition stage on that day.
The level of attendance across all competition venues was 81 percent on average on June 22, Clegg said.
There were 36,416 spectators across 14 sessions at seven different venues on June 22, he added.
Clegg went on to add that three sports – swimming, 3X3 basketball and fencing – commence the competition on June 23.
Badminton, fencing, swimming, boxing, volleyball and 3x3 basketball events are taking place on June 23. Athletes will contend for nine medal sets: seven in swimming, and two in fencing. Azerbaijani athletes will take part in all these events.
The Baku 2015 European Games is an innovative competition that has gathered over 6,000 athletes from 50 countries to compete in 20 sports. Twelve sports are officially recognized as qualifiers for 2016 Olympic Games in Rio.
Azerbaijan is now taking the second place in the overall ranking possessing 39 medals, 14 of which are gold. Azerbaijani spectators are eager to support local and European athletes which testify itself in sold out tickets. The level of attendance is usually at 86 percent on average.
Those who are interested in attending events, please refer to the Baku 2015 Spectator Information Center.
To purchase any remaining tickets for sports events please visit www.baku2015.com or any one of the ticket outlets across Baku and at the venues.