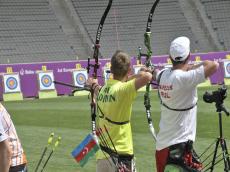 The European Games could become a qualifying event for the Olympic Games archery competition, New Europe reported citing Tom Dielen, the head of World Archery, the sport's international federation.
"We need to see how we will integrate the Games into the calendar but I really believe in its future as an Olympic qualifier," Dielen said.
"It was difficult for people to know what it would be like because it was the first time, but Baku 2015 is proving its value and its credibility from a sports point of view for the Games to be a permanent fixture on the sporting calendar," he added.
Dielen said that competing in the Games can help European archers to close the gap on Asian and American athletes, while for smaller nations it is an opportunity to compete in a multi-sports event they would not have otherwise.
"It will help to raise the level in Europe because it is basically the same environment as an Olympic Games with the same challenges," he said.
The European Games that kicked off in Baku June 12, will last till June 28. There is a total of 20 sports at Baku 2015: 16 Olympic sports and four non-Olympic sports. More than 6,000 athletes from across Europe are representing their nations over 17 days of competition.
Baku was awarded the games by the European Olympic Committees (EOC) in December 2012.