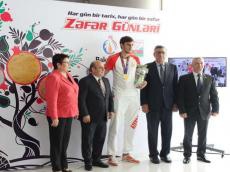 By Amina Nazarli
The National Olympic Committee held another meeting with the national winners of the 1stEuropean Games on June 20.
Two national athletes, gold medalist taekwondo fighter Radik Isayev and gymnast Oleg Stepko, received valuable gifts and certificates from the committee.
Chingiz Huseynzada and Khazar Isayev, the vice presidents of the NOC, as well as Olympic champions Nazim Huseynov and Ludmila Shubina were in attendance of the awards ceremony.
Addressing the event, Huseynzada said that the country did not expect to gain so many medals. "These successes are a clear evidence of the development of sport in Azerbaijan," he said.
Radik, weighing at over 80 kg, commented on the fight with his rival from Russia, Vladislav Larin, in the final.
"It is not my first fight with Vladislav. He is very strong rival. Thanks God, I beat him, and it was a kind of revenge for the earlier defeat from the Russian athlete. It was more pleasant was to beat him at home. I thank everyone for their support," he said.
The athlete also spoke of his future plans, saying that he is soon will prepare for the Rio 2016 Olympic Games.
"Last two years were very lucky ones for me. I became the European Champion in Baku in 2014 and now I am the winner at the European Games. I also took a gold medal in the World Championships in Russia," Radik noted.
Stepko who brought five medals to the country at the Games shared his impressions as well.
He was successful in earning a gold in the men's uneven bars and also brought home Azerbaijan's first gold medal in artistic gymnastics in the country's history.
Moreover, Stepko also gained two silver medals for his pommel horse routine and in the men's all around, and a bronze on the vault. Stepko also became third in men's team, where he performed together with Petro Pakhnyuk and Eldar Safarov.
"I felt like a hero. All my efforts are rewarded. It's my job, and I try to do it at the highest level," he said.
Represented by 291 athletes, Azerbaijan is participating in all sports at the Games, giving the country the opportunity to win medals in all of the competitions.
Azerbaijan has grabbed 35 medals at the Games, including 14 gold, 7 silver, and 14 bronze medals. Russia is in first in the overall medal count with 77 medals, while Germany trails Azerbaijan with 31 medals.
The Baku 2015 European Games are the first Olympic Games specifically designed for the continent of Europe. They Games, which began in Baku on June 12, will continue running until June 28.
In total, 50 European countries have sent around 6,000 athletes to compete in the 20 sporting events. Of those sports, 16 are Olympic events, while the other four - are new sports to this format.
The Games provide 253 medal events and opportunities in 12 sports to qualify for next year's Olympics in Rio.