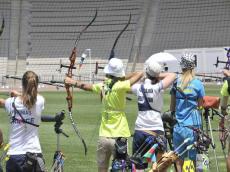 Azerbaijani athlete, Olga Senyuk advanced to the 1/16 finals in the women's individual archery event at the Baku 2015 European Games on June 19.
In the 1/32 finals, Senyuk defeated Romanian female archer, Simona Bancila with a 6-5 score.
She will face the Danish archer Maja Jager in the 1/16 finals.
The two other Azerbaijani female archers, Nurlana Velieva and Yaylagul Ramazanova, lost to their rivals and withdrew from the archery event.
The European Games that kicked off in Baku June 12, will last till June 28. There is a total of 20 sports at Baku 2015: 16 Olympic sports and four non-Olympic sports.
More than 6,000 athletes from across Europe came to Baku to represent their nations over 17 days of competition. Baku was awarded the games by the European Olympic Committees (EOC) in December 2012.