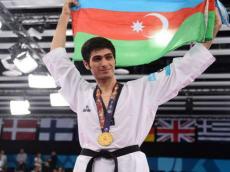 By Nigar Orujova
A mind blowing victorious march of the national team continues to bring joy to the whole nation, raising the number of medals to 29 as of Day 8 of the European Games in Baku.
Currently, Azerbaijani coin box enjoys 12 gold medals, five silver and 12 bronze medals. The host country follows Russia with magnificent 40 medals, 22 of which of gold. The third is Hungary with 13 medals, 7 gold.
The Azerbaijani athletes added four medals to the overall rank, including one gold, two silver and three bronze on June 18.
Azerbaijan's taekwondo fighter Milad Beigi Harchegani has added the 12th gold to the medal count after emerging victorious in the 80kg weight category.
On the way to the final, Harchegani defeated Serbian Damir Fejzic, British Lutalo Muhammad and Portuguese Julio Ferreira. He defeated Russian Albert Gaun 9-4 in the final.
Azerbaijan's female taekwondo fighter Farida Azizova claimed the silver medal.
On her way to the final, female taekwondo fighter Farida Azizova 67kg beat Dutch Joyce Van Baaren, Turkish Nur Tatar, and Swedish Elin Johansson. She lost to Russian Anastasiia Baryshnikova 6-5 in the final, and claimed the silver medal of the First European Games.
President Ilham Aliyev, chairperson of the Baku 2015 First European Games Organizing Committee Mehriban Aliyeva and family members watched the final games of the fighters at Baku Crystal Hall.
President Aliyev presented the medals to the winners.
Azerbaijani gymnast Oleg Stepko has grabbed the silver medal in the men's individual all-around final with 89.065 points. Ukrainian Oleg Verniaiev claimed gold with 90.332 points, while Russian Nikita Ignatyev won bronze with 87.365 points.
Mehriban Aliyeva participated in the award ceremony and presented the medals to the winners.
Azerbaijan's wrestlers won three medals on the same day. Freestyle wrestlers Haji Aliyev 61kg, Ruslan Dibirgadzhiyev 70kg and Jamaladdin Mahammadov 125kg secured the bronze medals in their weight categories.
On June 19, Azerbaijan will compete in gymnastics acrobatic, aerobic and rhythmic, trampoline, archery, beach volleyball, boxing, diving, shooting, taekwondo and volleyball.
Baku 2015 European Games is an innovative competition that gathered over 6,000 athletes from 50 countries to compete in 20 sports. Twelve sports will provide licenses for Rio 2016 Olympic Games in Baku.
The magnificent opening ceremony of the Games warmed hearts of Azerbaijanis and showed the history of the country around the world on June 12. The event will last until June 28.