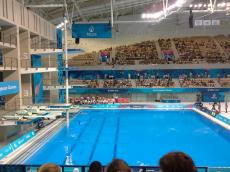 The qualifying stage of the platform diving competition among women completed as part of the first European Games in Baku June 18.
Azerbaijani athlete Olga Bykovskaya, scoring 323.30 points, reached the final of the competition, which will take place today at 20:30 (UTC/GMT +4 hours).
The European Games that kicked off in Baku June 12, will last till June 28.

There is a total of 20 sports at Baku 2015: 16 Olympic sports and four non-Olympic sports. More than 6,000 athletes from across Europe will be representing their nations over 17 days of competition.
Baku was awarded the games by the European Olympic Committees (EOC) in December 2012.