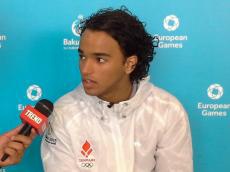 Baku has a very beautiful Aquatics Centre, reigning world youth champion in the 1m springboard from Denmark Andreas Sargent Larsen told Trend June 18.
"European Games is the biggest event I have ever been to," he said, adding that there are a lot of athletes participating in the games.
It should be noted that over 6,000 athletes came to Baku to participate in the Games.
Larsen went on to add that everything has been organized very well. He further said that he expects to reach the finals.
"It is my first time in Baku," he said. "Azerbaijan is a very nice and very warm country with nice people."
The European Games that kicked off in Baku June 12, will last till June 28.
There is a total of 20 sports at Baku 2015: 16 Olympic sports and four non-Olympic sports. More than 6,000 athletes from across Europe will be representing their nations over 17 days of competition.
Baku was awarded the games by the European Olympic Committees (EOC) in December 2012.