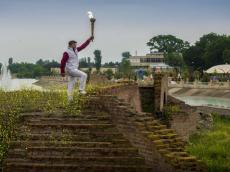 By Nigar Orujova
The official flame of the inaugural European Games was welcomed to Barda by hundreds of local residents, who then took part in a spectacular Festival of Fire in the city's Central Square on May 13.
Barda is part of an agricultural area notable for its extensive production and processing of cotton, silk, poultry and dairy products. It also lays claim to being one of the oldest dwelling places in the region, as shown by numerous relics unearthed during archeological excavations, including coinage dating back to the time of Roman Emperor Augustus.
The Journey of the Flame embraced the area's rich history, stopping off for iconic photo shoots at the remains of a 5th century fort or 'Torpaggala', 14th century tombs known locally as 'Mother of Aran' and a 7th century bridge which crosses the Terter river.
Sakhavat Ismayilov began the torch relay running along the Heydar Aliyev Avenue as far as the local mosque. The Flame was then passed on to Ilaha Rustamova, Shukufa Akbarova, Sevinj Garazade, Meleyke Guliyeva, Elgun Gojamanov, Musa Mammadov, Ravan Sultanov and Azad Aliyev, who completed the 3.71 km route.
The Festival of Fire took place in the early evening in a specially organized square where the atmosphere began to build long before the final torchbearer, Fuad Agayev, took to the stage.
The Flame was then transferred to a commemorative lamp that will remain on display in the city until the Closing Ceremony of the Games on June 28.
Local residents were treated to a video projection depicting the official capturing of the Flame at Ateshgah. Flamboyant dove-shaped balloons signifying peace were released into the sky. Official mascots Jeyran and Nar joined in the celebrations, and once again the crowd was enraptured with the signature fire show, which has been specially created to celebrate the Journey of the Flame at these festival locations.
"The atmosphere here today is a reflection of how Barda is ready for this celebration," Amil Aliyev torchbearer and Transcaucasus youth champion mixed martial arts said. "My participation in this relay is a clear indication of the value attributed to Azerbaijan's youth and our place in society.
"Our national leader Heydar Aliyev founded a sports school here and our current leader President Ilham Aliyev is maintaining that tradition. These Games will help raise the profile of Azerbaijan's youth around the world. It is great to see non Olympic sports also included in the programme. My coach has advised us on the importance of watching these Games live at the venues to get the experience of an International competition atmosphere."
Before Barda, the Flame also visited Yevlakh region, where it was welcomed by locals.
The Journey of the Flame will continue to Goranboy and Naftalan on May 14, for welcome ceremonies.
To follow the Journey of the Flame please visit baku2015.com/flame