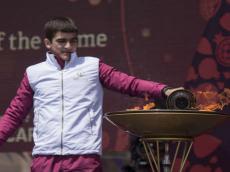 By Nigar Orujova
Baku 2015 torch, arrived in Neftchala on May 4, was greeted with great anticipation by locals.
A ceremony for the meeting of the torch was held at the entrance gate of the city. The flame of the first European Games was taken by cultural worker Ceyhun Mehdiyev who lost his health in defending Azerbaijan's territorial integrity.
The torch was then passed to others: physical education teacher, Ulker Ibrahimova, schoolgirl Sayara Samedzade, cultural worker Kamran Asadov, winner of the national championship on boxing among youth, Elmar Abbasov and finalist of this competition, Hasanaga Hasanov, boxing coach Khayal Mustafayev and coaches of the football club Neftchala Mehman Ibrahimov and Fakhraddin Murvetov.
Baku-2015 ambassadors favorite artists Raphael Iskenderov and Joshgun Rahimov also participated in the event, giving the ceremony a special mood.
The torch was delivered by football coach Dilaver Yagubov on stage where a lamp was lit. The lamp was presented to the public by gold medalist of the Republican Olympiad on geography Ilham Samadov, and was transferred to the city for storage until the end of the Games on June 28.
The ceremony saw a video presentation of the lighting of the flame of the Baku 2015 European Games at the Ateshgah temple on April 26.
Torchbearer Mehman Ibrahimov said: "I am infinitely glad that I am participating in one of the most important ceremonies of the Games."
"The Games will occupy a special place in the history of our sport, for they will always be remembered. These events are etched in my memory as the pleasant moments of my life. I am grateful to all my fellow countrymen for a fitting welcome torch relay, and congratulate them on this festivity. I wish all our athletes success in the European Games, waiting for victories and, most important, decent performances," he said.
WWII veteran Alikhan Aliyev said: "These days I feel a double pleasure. The 70th Anniversary of the Victory over fascism will be celebrated on May 9. Azerbaijani soldiers played a major role in achieving such a victory. The first European Games will start in Azerbaijan on June 12. Both of these events are a source of great pride. I have one dream: to celebrate the Day of Victory in Shusha, Khankendi and to light the torch in Nagorno-Karabakh."
Then, the torch was taken to the famous fish factory, a leading enterprise in the industry of the country.
The torch will continue its journey in Shirvan.
The innovative sport event in Azerbaijan's capital Baku will gather 6,000 athletes from 50 countries to compete in 20 sports.
The Journey of the Flame is bringing the spirit of Baku Games across Azerbaijan from April 26. In some 48 days, the spirit of Baku 2015 will inspire 60 regions across Azerbaijan, to finally arrive in the magnificent Baku National Stadium on June 12.
To follow the Journey of Flame please visit: baku2015.com/flame.