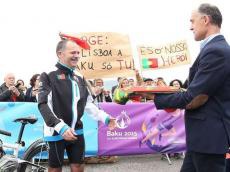 /By AzerNews/

By Nigar Orujova
To cycle from Lisbon to Baku, promoting the inaugural European Games along the way is the challenge proposed by Jorge Cristovao, a 53 year-old cyclist and adventure athlete.
Last year, Baku 2015 set an innovative challenge to develop a promotional strategy for the European Games, with invitations to the spectacular Opening Ceremony on offer for the best proposal.
The winning idea was Bike to Baku. This idea has now been brought to life by the Portuguese National Olympic Committee in the form of Lisbon2Baku, which will see Cristovao travel the breadth of the continent.
His journey began at Lisbon's Torre de Belem, in a ceremony attended by more than 100 people, including athletes and coaches who will represent Portugal in Baku, National Sport Federation representatives, the cyclist's family and friends.
Cristovao was given the Portuguese flag by the NOC's Chef de Mission, Jose Garcia, to whom he will return it on June 10, when he arriving in Baku, in order for the flag to be used by the Portuguese delegation's flag bearer at the Baku 2015 European Games Opening Ceremony on June12.
Chief Operating Officer of Baku 2015 Simon Clegg voiced a delight to see the Bike to Baku idea come to life through the Lisbon2Baku initiative.
"Jorge's journey will contribute to raising awareness of the inaugural European Games across the continent, and is a great example of the enthusiasm that Baku 2015 is inspiring amongst National Olympic Committees in Europe. We look forward to welcoming Jorge to Baku in June," he said, wishing him the best of luck on his travels.
The cyclist was also presented with the electric bike that he will ride for close to 7,000 kilometers. President of the Olympic Committee of Portugal, Jose Manuel Constantino, handed him letters addressed to presidents of NOCs in the countries he will visit on his route to Baku.
Cristovao will deliver the letters to the NOCs of Spain, France (Côte D'Azur office), Monaco, Italy, Turkey, Georgia and Azerbaijan, as well as the EOC headquarters in Rome and the Olympic Museum in Thessaloniki, Greece.
These letters from the Portuguese NOC President and Chief Operating Officer of Baku 2015 Simon Clegg will encourage the other NOCs to participate in the European Games with their best athletes, thereby promoting the event throughout Europe and the rest of the world.
At the end of the ceremony, the new Mayor of the City of Lisbon, Fernando Medina, gave Cristovao a letter addressed to Baku mayor, Hajibala Abutalybov.
The entire journey can be followed through the official website (www.lisboa2baku.com), as well as through social media (Facebook, YouTube and Flickr).
This year's exciting and innovative new multi-sport event in Baku will include 20 sports, 16 of which are Olympic, during the 17 days of competition in June 12-28. 6,000 athletes will prove themselves in Azerbaijan's capital.