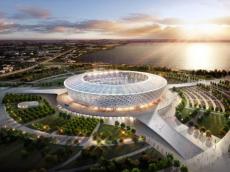 By Nigar Orujova
Baku 2015 European Games has signed agreement with another broadcaster outside the continent of Europe to show the inaugural event scheduled for June 12-28.
Television Broadcasts Limited in Hong Kong, Asia's largest commercial television producers, will have exclusive rights to show the European Games in the territory on free-to-air and pay television.
TVB, which is available to all 2.4m households in Hong Kong, is a regular broadcaster of the Olympic and Winter Olympic Games and FIFA World Cup.
Recently, TVB have announced that they will broadcast not only the European Games, but also the Rio 2016 Olympic Games. No fewer than 12 of the 16 Olympic sports featured at Baku 2015 will provide qualification opportunities for Rio 2016.
Simon Clegg, Chief Operating Officer of Baku 2015, noted that interest in the European Games continues to widen. "TVB will be our 56th broadcast partner, and Hong Kong joins the Arab world, the United States, Canada, mainland China and India in seeing the Games outside Europe - and I am sure there will be more to come. It is a real testament to the appeal of this important addition to the international sporting calendar," he said.
Patrick Li of TVB added: "Sport is central to our broadcast strategy. We have consistently brought the people of Hong Kong high-quality events - such as the Olympic and Winter Olympic Games as well as the FIFA World Cup - and the European Games is a comfortable fit with that approach."
The inaugural European Games, which are expected to attract more than 6,000 athletes to compete across 20 sports, will take place in the Azerbaijani capital from June 12 to June 28.
The Games will be broadcast in Europe and all over the world.