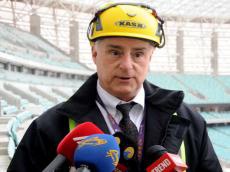 By Nigar Orujova
The Olympic Stadium in Baku is rapidly preparing for the grand opening ceremony of the first European Games, the general manager for the construction told journalists on April 1.
A diamond of the Azerbaijani sport facilities, the national Olympics Stadium was founded in 2011. The arena located at Lake Boyukshor is one of the first great constructions Baku visitors see when arriving in the capital.
Ron Cameron, the stadium general manager for all construction related issues, expressed confidence that a grand opening ceremony of the world level will be held there on June 12.
Cameron said that all spectators, who will observe the opening ceremony, will be amazed.
"The stadium will be completely ready before the Games," he said. "The main work on the stadium has been completed. The landscaping and other work, including cleaning are underway.
The official opening ceremony of the stadium was held on March 18. The six-storey stadium occupies an area of nearly 50 hectares. The pitch has four entrance gates, while the stands have 26 gates. The arena has room for 68,000 spectators and 3,100-car parking spaces.
He also touched upon the distinctive features of the Baku Olympic Stadium from other stadiums from around the world by highlighting some of its advantages.
"The audience seats are located in close proximity to the very place where all competitions will be held and this will undoubtedly allow the spectators to closely watch them," said the general manager.
Cameron added that the latest technology has been used on the stadium and that modern systems of security, lighting, sound and control have also been installed there.
The facility consists of the main and auxiliary stadiums, an auxiliary building, as well as sections for VIP, CIP, media and disabled spectators.
The construction process at the facility went ahead in accordance with the International Building Code, as well as those of UEFA and FIFA. In 2020, that stadium will host the quarterfinals and three group games of the UEFA EURO 2020.