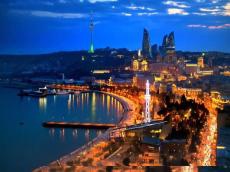 By Nigar Orujova
Baku will light the torch of the inaugural European Games on April 26, said Azad Rahimov, Youth and Sports Minister.
Rahimov made the remarks during a meeting with Azerbaijani athletes taking part in the European Karate Championships in Turkey.
Athletes and other well-known people of Azerbaijan will carry the flame across all districts and cities of the country, he stressed.
The fire of the First European Games will be lit with this flame on the Baku Olympic Stadium a day before the start of the Games on June 11.
Rahimov went on to add that all sports facilities in Baku will be commissioned in April, after which it will be possible to say with confidence that Baku is ready to host these major competitions.
Moreover, a campaign for advertising the First European Games has begun in the world and various videotapes have been prepared, he added.
Agreements have been signed with TV channels from over 34 countries of Europe and the world for broadcasting and advertising the First European Games, the minister said.
Rahimov further noted that holding this event in Baku is very important for popularizing Azerbaijan in the world. Over 500 million people will watch the First European Games in China alone.
The organizing committee is preparing for grandiose opening and closing ceremonies for the First European Games.
The grandiose sport event will start in 73 days in the brand new Olympic Stadium. The stadium can host 68,000 spectators.
The Land of Fire has been preparing for this historic for over two years now. Notwithstanding the tight schedule, Azerbaijan aims to hold the Games at the level of the summer Olympics, thus setting the bar high for all other countries.
An exciting and innovative new multi-sport event this year will include 20 sports, 16 of which are Olympic, during the 17 days of competition in June 12-28. 6,000 athletes will prove themselves in Baku.
The name of the European Games 2019 host, that will take the torch of Baku 2015 European Games, will be announced at the EOC Extraordinary General Assembly in May.