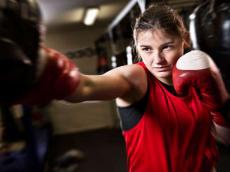 By Nigar Orujova
Irish boxer Katie Taylor will be an international Athlete Ambassador for this summer's inaugural event, Baku 2015 European Games announced on February 27.
Taylor, who took first place at the London 2012 Olympic Games, is also the current Irish and World Champion in the 60 kg weight division.
Her medal haul at major competitions stands at 17 golds, including her Olympic title, five consecutive World Championships, six consecutive European Championships, and five European Union Championships, making her the most decorated athlete in the history of women's Boxing.
"I am delighted to welcome Katie to the Baku 2015 team as an international Athlete Ambassador. To have a champion of her calibre backing the first European Games is a great endorsement of the event, and reflects the high level of competition we will see this summer," said Simon Clegg, Chief Operating Officer of Baku 2015.
"I am sure Katie will very much enjoy promoting the Games in Ireland through her role as an Athlete Ambassador, and we look forward to seeing her compete in Baku in June," he said.
Baku 2015 Athlete Ambassadors will represent their sports, and feature in marketing campaigns around the continent and on social media, to promote the first European Games.
Taylor, 28, who has also represented the Republic of Ireland women's national football team, said: "Baku 2015 will be great for European sport, and I am delighted to be involved both as an Athlete Ambassador and as a competitor. I will be doing my best to raise the Games' profile and get the word out to as many people as possible."
Patrick Hickey, President of the Olympic Council of Ireland, said: "I have no doubt that Katie will do a great job of promoting Baku 2015 around the country, helping to build support for Ireland's athletes in Azerbaijan this summer. As one of the world's leading competitors in any sport, you couldn't ask for a better ambassador for the first European Games."
Taylor joins British taekwondo athlete Jade Jones, French rhythmic gymnast Kseniya Moustafaeva, Denmark's canoe sprinter René Holten Poulsen and Serbia's Basketball 3x3 team of Dušan Domovi? Bulut, Marko Savic, Marko Zdero and Dejan Majstorovic as international Baku 2015 Athlete Ambassadors, with more to be announced in the near future.
The biggest sporting event in Azerbaijan's history, the Baku 2015 European Games will attract more than 6,000 athletes to represent 50 countries in 20 sports during 17 days of competition.
The games will take place in 21 stadia and facilities in Baku and Mingachevir city.