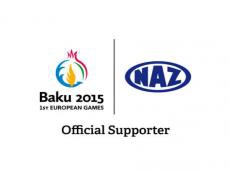 By Nigar Orujova
Baku 2015 European Games has signed an agreement with Nakhchivan Automobile Plant to become an Official Supporter of this summer's inaugural European Games.
As part of the agreement, NAZ, the largest manufacturer of consumer vehicles in Azerbaijan, will have exclusive rights in the country for the Baku 2015 automobile brand category.
NAZ will also pass on the designation of "Official Car of Baku 2015" and the right to use the Baku 2015 logo in Europe and China to Chinese automobile manufacturer Lifan, and will supply 280 Lifan vehicles for operational use during the Games.
"At every large international multi-sport event, it is vital to have excellent transport options available to ensure the smooth running of our operations," said Simon Clegg, Chief Operating Officer of Baku 2015.
"As the largest consumer vehicles manufacturer in Azerbaijan, it is great for Baku 2015 to have NAZ on board, and I am sure both they and Lifan will provide the very best service to our clients and stakeholders."
The 280 vehicles will be used to transport a number of clients including National Olympic Committee members and media and broadcast personnel throughout the event which scheduled for June 12-28.
Musa Abdullayev, Director of NAZ, said: "We are proud to be a part of the Baku 2015 family and to give our support to the largest sporting event in the history of our country.
"Working closely with Lifan, we will deliver a world-class service to all clients and stakeholders of the historic first European Games," he added.
The agreement means NAZ becomes the eighth Official Supporter of Baku 2015 after McDonald's Azerbaijan, Tickethour, Milla, Sitecore, Motorola Solutions, Azersun Holding and Bazarstore.
The biggest sporting event in Azerbaijan's history, the Baku 2015 European Games will attract more than 6,000 athletes to represent 50 countries in 20 sports during 17 days of competition.
The games will take place in 21 stadia and facilities in Baku and Mingachevir city.