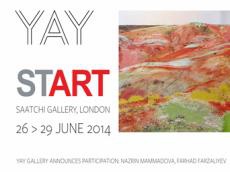 Yay Gallery, based in Baku, Azerbaijan, is delighted to announce its participation in the inaugural START Art Fair presented by Prudential. Held at the Saatchi Gallery, London, START will mark Yay Gallery's first UK art fair.
Yay Gallery (meaning "share" in Azerbaijani) was founded by YARAT, the leading non-profit contemporary art organisation in Azerbaijan. Opened in 2012 as part of YARAT's on-going commitment to growing local art infrastructure in the Caucasus, Yay Gallery supports international dialogue for the arts and shares its proceeds between the artists and YARAT.
A collaboration between the Saatchi Gallery and the Global Eye Programme, START is dedicated to supporting international emerging artists from around the world. Bringing together cutting-edge galleries from Asia, Europe, UK and USA, START is the ideal platform for Yay Gallery.
Presenting work by Farhad Farzaliyev (b. 1989) and Nazrin Mammadova (b. 1989) Yay Gallery brings to the fore the first generation of artists to mature since Azerbaijan's independence in 1991. Reflecting the rapid cultural and aesthetic changes Azerbaijan has undergone over the last few decades, Yay Gallery's stand will shed light on a new and burgeoning art scene.
Farhad Farzaliyev's (b. 1989) Granny's Vocabulary series, 2014, considers nostalgia for the Soviet era, combining rudimentary Soviet textiles with neon slogans from his grandparents' generation. Using Cyrillic script, which was replaced by a Turkish alphabet after independence in 1991, his work immediately speaks of the pre-independence era of Soviet rule and the tumultuous history of Azerbaijani script, which has changed officially three times in the last eighty years.
Nazrin Mammadova's (b. 1989) Alti Agach series, 2014, uses majestic photography of the Caucasus Mountains, which dominate the geography of the region. Interlacing their contours with plexi-glass sections of saturated colour, Mammadova shows how the cultural symbolism of the Caucasian mountains is becoming intertwined with the rapidly developing consumer culture of the region, symbolised by the artifice of the lurid, mass-produced materials.  
- ENDS -
Notes to editors:About Yay Gallery
Founded as part of YARAT's on-going commitment to growing local art infrastructure, Yay Gallery is a commercial exhibition space which shares all proceeds between the artists and YARAT.
The gallery's artistic agenda is focused on showing the most talented and promising young artists as well as more established artists from Azerbaijan and abroad. Beyond its immediate artistic program, the gallery regularly hosts lectures, readings, film screenings and workshops conducted by the artists, with the goal of becoming a platform for the exchange of ideas and experiences between the artists and the wider public.

About YARAT Contemporary Art Organisation

Founded in 2011 by Aida Mahmudova, YARAT is a not-for-profit organisation dedicated to nurturing an understanding of contemporary art in Azerbaijan and to creating a platform for Azerbaijani art, both nationally and internationally.
Based in Baku, YARAT, (meaning "create" in Azerbaijani) realises its mission through an on-going program of exhibitions, education events and festivals. YARAT facilitates dialogue and exchange between local and international artistic networks, including foundations, galleries and museums. A series of residencies further fosters opportunities for global cultural dialogue and partnerships.
YARAT's educational initiatives include lectures, seminars, master classes and the Young Artist Project ARTIM (meaning "progress" in Azerbaijani). ARTIM aims to encourage the next generation of Azerbaijani creative talent to seek a career in the arts and gives young practitioners the opportunity to exhibit their works in a professional context.
About START
The inaugural START art fair will be held at the Saatchi Gallery in London from 26 – 29 June 2014. The fair is dedicated to supporting international young galleries. The first edition will bring together exhibitors from the world's most exciting emerging markets alongside young, cutting-edge galleries from Asia, Europe, UK and USA.
START was founded by the Global Eye Programme, an initiative that nurtures worldwide artistic talent, in partnership with Saatchi Gallery. The fair's aim is to provide young galleries and artists with a platform and the support and recognition that they need to develop. The fair gives exhibitors the opportunity to present their artists to a culturally engaged, international audience at a world-renowned venue. The Saatchi Gallery is celebrated for its unique vision in recognising new artistic talent and helping to launch the careers of emerging artists, an ethos central to START. The fair is sponsored by Prudential, which aims to support emerging talent and creativity in Asia.
START is a focused art fair, limited to 44 young galleries showing new artists from around the world, in well proportioned museum standard exhibition spaces rather than standard art fair booths.
Dates:
26 - 29 June 2014

Address:  
Saatchi Gallery, Duke of York's HQ
King's Road, London, SW3 4RY

Website: 
www.startartfair.com

Opening Hours:
Wednesday 25 June 2014: Press Preview (accredited press only)
Thursday 26 June 2014: 10am – 9pm
Friday 27 June 2014: 10am – 6pm
Saturday 28 June 2014: 10am – 8pm
Sunday 29 June 2014: 10am – 6pm

Admission:
On the door:     £20.00 - adult one day ticket  
£17.50 - over 65s one day ticket
Advance:     £17.50 - adult one day ticket
£15.00 - over 65s one day ticket
Under 16s - Free admission
Travel:  
    Sloane Square or Victoria Underground