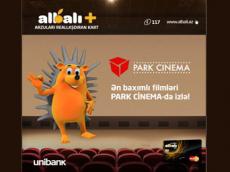 Unibank JSC offers to buy tickets to watch movies at the Park Cinema by using the Albali Plus card.
From now on, the Albali Plus (Albali) card holders can watch their favorite movies at any time at all, a message from the bank said on June 11.
You can buy the tickets to the most favorite and interesting movies at the Park Cinema at both the Park Boulevard and the Metropark with the Albali plus (Albali) now. You can now pay for the tickets over one month.
From May 15 to June 15, do your shopping and selling with the Albali plus (Albali) at the vendors' most advanced and branded shops of the capital city (28 Mall, Metro Park, Park Bulvar and AuraPark) and gain one non-interest additional installment.
Each purchase or sale you do during the festival will win you a chance to take part in, and win the lottery with the winning total prize of 10,000 AZN. Each deal worth 10 AZN will count as one winning chance (and two changes in selective trade partner).
Everyone joining the Albali plus shopping festival will also be in for special awards and discounts at dozens of their favorite brand shops.
During the festival, the cardholders of Albali plus (Albali), which will be connected to the platform 'Qo?ul! F?rql?n! Faydalan!' will receive 200 points.
For details, please call (012) 117 or visit the website of the bank at (www.unibank.az) or else go to its Facebook page (www.facebook.com/unibank.az).

/Trend/