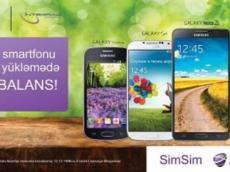 The feast of Novruz is approaching; the spring is already in the air, and Azercell brings its own offering for all subscribers to fully enjoy the holidays. With the start of the season Azercell introduces several generous campaigns for its subscribers all over the country.
Starting from March, 4 Azercell together with Samsung-Integral network have launched the "Spring Samsung Smartphone Campaign". Every subscriber buying a new Samsung smartphone in Azercell's dealer shops across the country till May 31, will benefit of a bonus equal to the amount refilled, for every refill equal or higher than 5AZN. This offer will be valid for subscribers joining to the campaign during the whole year. The bonus amounts gained within the campaign can be used for on-net calls within the following seven days period. Upon joining the campaign and the activation bonuses, subscribers will get SMS notifications, every time bonuses expire.
Another surprise presented by Azercell on the eve of spring holidays is the "Free internet on Weekends" campaign valid for all existing subscribers and the ones joining the 4.5-million Azercell family during the campaign period. Any Azercell subscriber texting "Weekend" to 2525 until March 31, 2014 will benefit of Free Mobile Internet from 00:00 on Saturday morning and until 23:59:59 on Sunday night. To enjoy the Free Mobile Internet during all weekends of March, subscribers are invited to send the keyword "weekend" every week, to activate this option for the coming Saturday and Sunday.
Azercell welcomes its subscribers and all new-comers to taste the joy of holidays to its fullest, by being entertained with the Free Mobile Internet of Azercell!
Furthermore, we would like to remind that based on 2013 research data of Ookla Net Index, Azercell is recognized as the leader of mobile Internet speed in the country. Moreover, the rise of mobile Internet consumption rate among Azercell subscribers increased over 120%, despite having every second subscriber as an active user of the mobile Internet.
Once again, Azercell warmly invites You to join and share the festive mood of this spring with Your dearest ones! Live this spring better with Azercell!
Azercell Telecom LLC was founded in 1996 and since the first years sustains a leading position on the market. Azercell introduced number of technological innovations in Azerbaijan: GSM technology, GPRS/EDGE, 24/7 Customer Care, full-time operating Azercell Express offices and others. With 51% share of Azerbaijan's mobile market Azercell's network covers 99,8% of the country's population. By the end of 2013 the number of Azercell's subscribers reached 4,5 million people. In 2011 Azercell deployed 3G and in 2012 the fourth generation network - LTE in Azerbaijan. In 2013 Azercell became the first mobile operator in Azerbaijan launching for its subscribers the mobile e-service "ASAN imza" (ASAN signature). The Company is the leader of Azerbaijan's mobile communication industry and the biggest investor in the non-oil sector.

/Trend/