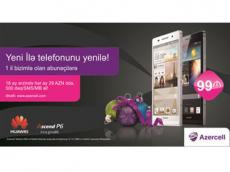 Along with the high-quality service and reliable network, Azercell also provides its subscribers with the range of favorable campaigns and discounted tariff plans, the company reported on Feb. 28.
Often Azercell prolongs the duration of its campaigns as they are highly welcomed by the subscribers. One of such campaigns is the special offer for Huawei smartphones launched last December.
The campaign extended until 31.05.2014 offers any subscribers to buy Huawei Ascend P6 and Huawei Ascend Y511 smartphones for 39AZN and 99AZN accordingly and benefit from a favorable package of in-country minutes, SMS and mobile Internet.
In order to benefit from the campaign, a subscriber should visit Azercell Express offices both in Baku and regions as well as any Azercell dealer shops throughout the country.
More information on the campaign is available at this address:
http://www.azercell.com/ru/personal/campaigns/devices/huawei_double
For more information, please apply to news@mcs.az.
Azercell Telecom LLC was founded in 1996 and since the first years sustains a leading position on the market. Azercell introduced number of technological innovations in Azerbaijan: GSM technology, GPRS/EDGE, 24/7 Customer Care, full-time operating Azercell Express offices and others.
With 51% share of Azerbaijan's mobile market Azercell's network covers 99,8% of the country's population. By the end of 2013 the number of Azercell's subscribers reached 4,5 million people. In 2011 Azercell deployed 3G and in 2012 the fourth generation network - LTE in Azerbaijan.
In 2013 Azercell became the first mobile operator in Azerbaijan launching for its subscribers the mobile e-service "ASAN imza" (ASAN signature). The Company is the leader of Azerbaijan's mobile communication industry and the biggest investor in the non-oil sector.

/Trend/