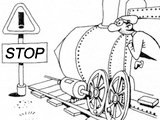 It has long been noticed that Armenia is a country where people are not very interested in international life. The only exceptions are news about life of the diaspora, or events that you can somehow adapt to the "Armenian cause" such as the independence of Kosovo. But those in Armenia keep a close eye on crisis around Iran. The main point is not only that Armenia understandably fears possible "war on the borders". Any state in Armenia's place would do so.
Things are much more complicated and delicate for Yerevan because military logistics is involved here. Armenia has already accustomed to consider itself "an outpost of Russia" and relies on help and intercession of Moscow for obvious reasons. The delivery of weapons by Russia worth $1 billion and $800 million not to mention other arms purchases and preferences within the OSCE gave Armenia more confidence.
But Armenia has no land connection and a common border with Russia. Back in 1990s, military cargo was supplied to Russian military bases in Georgia and there were no problems with the delivery of weapons to Armenia under transit agreement. Cargo was first delivered to the Russian bases and then to Armenia. The situation is different now. For obvious reasons Russia is unlikely to be able to transit goods through Georgia's territory. It is even harder to imagine that Russian weapons will go to Armenia via Azerbaijan. On this backdrop, Iran remains the only "working" border for Armenia in terms of military logistics. However, current developments around Iran cannot but cause understandable anxiety in Armenia.
A war will not just hinder transit of cargo through the Iranian territory for long time. In case of solution of the Iranian problem by force, Iran which is very friendly to Moscow and Yerevan will inevitably become a country with a much more prominent focus on the U.S., so  it will be hard to supply military goods through its territory.
Even if no war starts in foreseeable future, sanctions over Iran will be toughened and sooner or later any weapons transit, including machines, cartridges, hand guns, etc. will also be banned. In short, if the sanctions "work", it probably would mean "pro-American breakthrough" in Iran.
Armenia's keeping a close eye on developments concerning Iran is a result of vulnerable geopolitical position Armenia has been caught up because of its aggressive policy. Claims to Azerbaijan's Karabakh, Turkey's Eastern Anatolia and Georgia's Javakhetia left Armenia with open borders only with one of the four its neighbours.
Here it is worth remembering an incident which occurred at an airport in southern Russia in Soviet years. Quite predictable trouble happened: sewage pipe broke down, the sewerage waters flew out and damaged electric wiring. Control tower was also deenergized among other things. Communication with the aircraft and those that were going to land, and those that flew through the airspace controlled by this airport transit was lost.
Of course, the airport had emergency power system. But when it was turned on, it immediately sparked and power went out again as someone from the builders in the Russian airport came up with "brilliant" idea to enclose both substantive and emergency system to the same board.
Then airport was saved thanks to an unprecedented professionalism of one of the dispatchers. The main lesson to draw from this incident is that if everything is enclosed in single board, even minor nuisance like sewerage problems will lead to universal catastrophe. Today Iranian border is like a board that includes both main and emergency system for Armenia. Admittedly, troubles may occur at the borders of many nations, but someone else's war becomes a universal catastrophe only in those cases where your own foreign policy was originally faulty. In this case, a disaster is just a matter of time. It does not matter whether it will be instigated by  a sewerage breakdown or a lightning strike.
/Day.Az/