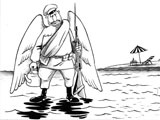 Armenian Defense Minister Seyran Ohanian seems to have gotten acquainted with the notion of "creative approaches to problem-solving." We do not know exactly how he found about such a strategy and how deeply he studied it. But, judging by his latest decrees, he spent some time on it.
Last week reports circulated in the press that Ohanian ordered the armed forces to clean and upgrade architectural and cultural monuments on the occasion of International Monuments and Sites Day April 18.
He stressed that the goal was to familiarize the military with cultural and historical monuments, to facilitate military and patriotic education and to raise the army's morale.
So, we have written many times about the moral decadence the Armenian army. Armenian media have also widely covered this issue. Armenian soldier can do nothing about it. Regardless of how hard you encourage them to join the army, they still evade military service any way they can. Once drafted, they run away in each and every possible direction.
Ohanian simply does not know what to do. He would even stay on the frontline, give sweets and meat to soldiers and lunch together with them at the table. He may even dare to shake his fist at Azerbaijani soldiers from the trenches and give fiery interviews to local media.
Wise people say that despair is the worst thing you could experience in your life. Ohanian seems to know how it feels. He needs to do something to raise the army's morale. So, he suddenly found about concepts like "creativity." Deeply studying the core of the "creative approach," he decided to issue the decree, which we mentioned above.
It is still unknown exactly what impact cleaning monuments has had on the army's morale. However, Ohanian remained positive. Moreover, he just watched (and did not take part) the soldiers as they cleaned a monument dedicated to Vardan Mamikonyan and the Saint Gregory Lusavorich Church, and was visibly satisfied with his "brilliant" decision.
It is possible that after such activities, international holidays may become a means of rallying the troops in Armenia. Poetic evenings might be arranged on International Poetry Day, or the army may even try to clear the sky of storm clouds on World Meteorological Day...  
But this is only a drop in the sea. To Ohanian's joy, the U.N. has approved such international days as World Migratory Bird Day, Biological Diversity Day, World Day of Cooperatives, and International Nelson Mandela Day. Ohanian may like International Day Against Rabies, or World Mental Health Day most of all. But he will certainly be puzzled at how to celebrate the International Day of Hugs.
H. Hamidov
Day.Az writer