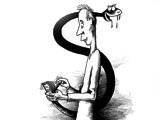 An Armenian official enters a hotel and sees a table filled with food. But for some reason, there are no chairs at the table. He begins to sniff around, finally finds a chair, pulls it towards the table, and begins to eat as quickly as possible.
All the sudden, a waiter runs over to the table and yells: "What are you doing?! This is the buffet counter – Swedish style!"
"Well, then I'll get up as soon as the Swedes come, I guess..." he replies.
Rumor has it that Armenian ex-President Robert Kocharian is a big fan of the Swedish national football team, and doesn't root for the Armenians. The reason is not the resolution on the so-called "Armenian Genocide" adopted by the Swedish parliament last month, but rather that Kocharian likes vacation in Sweden every now and again.
Another reason is that the Sweden team has been run not by one head coach, but rather a tandem – Tommy Soderberg and Lars Lagerbäck – for years already. Under their instruction, the Swedes have not won any medals in international or European championships. But they've been quite successful, nonetheless, and more importantly, stable. Thus, they have proven that two captains can sail a ship at the same time.
Such a management model has been attractive for Kocharian since 2008 when he was forced to cede his presidency to Serzh Sargsyan. Ever since, he has dreamed of returning to power – not at the cost of his successor Sargsyan's forced displacement, but rather as his appearance as a savior.
Kocharian waited for a proposal to become prime minister for a year and half. But the proposals did not follow. So, Kocharian decided to act. First, he probably bought a scarf, shirt and cap with the logo of the Swedish team... Then he studied a few interviews with the Swedish coaches, and only then announced to his inner circles that he intends to return.
Kocharian's intentions soon were made public. He revealed his plans through his actions, as he has held foreign meetings in parallel with Sargsyan in recent weeks. As Kocharian met OSCE Minsk Group U.S. Co-Chair Robert Bradtke in his office, it seems that Armenia is actually ruled by a tandem, as opposed to one person.
His ex-boss' actions are probably annoying Sargsyan. But he does not want to make any rash moves. He is still a fan of the Armenian team and sees nothing nice about the Swedish squad.
However, talks on the sidelines have it that the current president is a big fan of the Turkish team, but insists that he will root for North Korea in the World Cup in South Africa. Well, he likes the way Kim Jong Il rules.
H. Hamidov
Day.Az writer