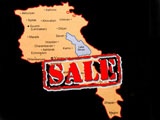 German parliamentarians gave a wonderful idea to the Greek government. Members of the Bundestag offered that the Greeks sell their islands and other property to rescue the economy and pay off huge foreign debts. Outwardly abusive, the idea is actually pragmatic. The country's incompetent leadership threatens not only its present and future, but the entire EU, with a common currency. Being at fault, they should also pay off the debts.
Besides being pragmatic, it can also set a precedent. As in the case of a bankrupt company, property of a bankrupt state must also be put up for sale. Greece proposed to take this step first and foremost by setting a precedent for other indebted countries.
For example, Armenia can do this since its external debt reached 45 percent of its GDP and is not going to decrease soon. Armenians have almost nowhere to obtain foreign aid because in order to borrow, first you must return your old debts. Old sources have been exhausted or irritated. There are no new sources. Quackery with Turkey failed. One can invest in the economy of this country only feeling a sense of pity. So, there is a need to put the junk on sale.
Of course, there is nothing special to sell, but taking into account the specific relations with Armenia, we would turn a blind eye to the many flaws and would make a shopping.
I would recommend potential Azerbaijani buyers purchase Armenia's border with Iran first of all. The land is barren and devoid of natural resources. It is also paltry. It is even nothing from a geographical viewpoint. So, it will enable to establish direct contact with Nakhchivan and provide a direct access to Turkey.
Lake Sevan attracts attention next. I was on the shore of the reservoir 5-6 years ago. Sevan has become so shallow that very few Sevan trouts have survived. Infrastructure was poor. I cannot comment on the current state of the tourist center. But I do not think things have changed there. However, it was once Azerbaijani land, and the U.N. Charter must be respected. And don't we buy what is our own when we want to start or enhance a business?  
The Tsakhkadzor winter resort is third. Again, a few years ago I was there and was disappointed at the state of the facility. Everthing was dilapidated and the service was bad. Tsakhkadzor needs urgent readjustment. Investments would pay off well with proper management. Fortunately, the place is known since the Soviet times. Nostalgic tourist will certainly travel there.
Let's not forget about Dilijan, which has the best water in the world second after San Francisco. I was just passing it, so I cannot describe everything in detail. I think that the investment will certainly recompense.
Shashlichnaya Street in Yerevan is not also a bad place. They cook well in restaurants located on this street. In addition, they also cook Azerbaijani dishes here. Kitchen of Armenians is full of plagiarism, so there will be no adaptation problems.
These are the only all lucrative things that Armenia has. But we do not buy all for the profit. We need to think about regional security, culture and art, too. So, the next lot is Metsamor nuclear power station. There is a need to buy this plant in order to close it. It's a bomb threatening the entire South Caucasus and the surrounding area. Let's do what international organizations can not – to get rid of the potential threat of explosion.
Matenadaran with the Genocide History Museum comprise a package lot. It is impossible to earn from them, because potential customers have long been notified of falsity, but scientists and historians from Turkey and Azerbaijan can well be employed here. We can dismiss all the current staff and hire experts who will be able to tell only truth.
Theater Square in Yerevan is a good facility, too. We can hand it over to the Iravan Dramatic Theater. And the Azerbaijani opposition can be given permission to stage protests here on weekends. The place is clearly far from the center of Baku, so the opposition will not interfere with the everyday life of residents of our capital.
I tried hard to enlarge the list, but it did not work. After all, Armenia is an uninteresting, poor country. If you still find something attractive, please, I promise to evaluate its suitability.
Kanan Guluzade
Day.Az writer